Newton Sr High School Class of 1960


Newton, Kansas
In Memory
Carlos Gomez VIEW PROFILE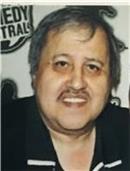 Carlos Gomez, 74, died Thursday (March 3, 2016) at St. Francis Hospital in Wichita.
He was born on Jan. 18, 1942, the son of Angela S. (Sifuentez) and Epimenio Gomez in Newton.
Carlos served in the United States Army, 101st Airborne as a paratrooper. He earned his Parachutist Badge and an Expert Badge in Rifle.
He was a member of the VFW and American Legion, both of Wichita.
Carlos loved comedians and was a "Fluffy" fan. He also enjoyed sports, especially the Royals and the Kansas City Chiefs.
He was preceded in death by a sister, Josephina Gomez, and his parents.
His survivors include two sons, Roberto Gomez, Wichita, Carlos Gomez, Albuquerque, New Mexico; a daughter, Elizabeth Gomez, Colorado Springs, Colorado; seven grandchildren and eight great-grandchildren; four sisters, Rachel Tejeda, Kansas City, Missouri, Josie Sandoval, Norco, California, Mollie (Victor) Solorza, Whittier, California and Angel A. Gomez and husband Marvin Odefey, Pueblo West, Colorado; numerous nieces, nephews and cousins.
Visitation will be held on Wednesday, March 9, from 1 p.m. to 7 p.m. at Our Lady of Guadalupe Catholic Church in Newton.
Recitation of the Holy Rosary will also be held on Wednesday, March 9, at 7 p.m. at Our Lady of Guadalupe. Father Juan Garza will be presiding.
Graveside Services will be held on Thursday, March 10, at 10:30 a.m. St. Mary's Catholic Cemetery, Newton.
In lieu of flowers, memorials may be made to the American Diabetes Foundation, and sent to Broadway Colonial Funeral Home, 120 E. Broadway, Newton, KS 67114.
Published in The Kansan on Mar. 8, 2016
Click here to see Carlos' last Profile entry.