Newton Sr High School Class of 1960


Newton, Kansas
In Memory
J. T. Kelso (Kelso)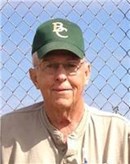 John Thomas "J.T." Kelso, 75, of Newton, passed away at his home Friday (Sept. 8, 2017). J.T. was born March 1, 1942, in Newton, the son of Thomas and Camilla (Reid) Kelso.
J.T. graduated from Newton High School in 1960. He would say he was blessed to have a career that he loved. His calling as a conductor spanned 46 years on multiple railroads.
J.T. was a loving father, grandfather and devout Christian.
He is survived by his wife, Sandra of Newton; sons: Michael, Thomas, John Ed (Deanna) and Scot (Deb); daughters: Margaret Peterson (James), Lynn Marshall (Curt) and Kelly Davert (Mike); brother, Jim (Sheryl); and eight grandchildren.
J.T. was preceded in death by his parents, Thomas and Camilla; brother, Jack; and granddaughter, Mattison Hadley.
Recitation of the Holy Rosary will be prayed at 7 p.m. Monday (Sept. 11, 2017) at St. Mary Catholic Church. Mass of Christian Burial will be 10 a.m. Tuesday (Sept. 12, 2017) at St. Mary Catholic Church, with The Reverend Nicholas Voelker Celebrant, followed by burial at St. Mary Cemetery.
Family suggests memorials to St Mary Catholic School of Newton or Harry Hynes Hospice, in care of Petersen Funeral Home.
www.petersenfuneralhome.com.
Published in The Kansan on Sept. 11, 2017