Newton Sr High School Class of 1960


Newton, Kansas
In Memory
Karen George (Dawe)
Karen Dawe, 74, of Sun City, Arizona passed away Feb. 5, 2016.
Our amazing, loving, and caring, daughter, mother, grandmother and sister passed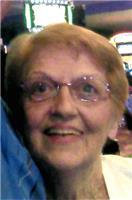 away on February 5.

Karen was born in Newton and moved to Phoenix in 1955. She attended West High in Phoenix and graduated from Newton High in Newton. Karen returned to Arizona and attended Phoenix College. While raising her three boys, Karen was a Scout leader and first woman Pop Warner Football President. She worked for Valley National Bank, Carl Erickson Realty, Realty Executives, and owned Executive Associates Realty. In 1996 she moved to Leavenworth where she owned a resale children's clothing store, and managed a Goodwill store.

She moved to Newton in 1996 to live closer to her mother, where she worked at Walgreens. In 2008 Karen and her mother returned to Phoenix and Karen continued working for Walgreens. Karen loved her family, attending her grandchildren's activities - especially watching their sports, and shopping garage/estate sales to supply her E-Bay store.

She was preceded in death by her father Woody George and is survived by her loving family: her mother, Juanita George; Sons, Steven Dawe, Richard "Woody" Dawe (Kayleen), Jason Dawe; grandchildren, Austin, Westin, Colten, Cheyenne, Jarrod, Jeremy and Caleb; sisters, Rosemary Jelinek and Jimalene Rogers; many nieces, nephews and friends.

There was a Celebration of Life Service at 12 p.m. March 5, followed by a gathering to share memories at Unity Spiritual Center, 10101 W. Coggins Dr. Sun City, AZ.

Published in The Kansan on Feb. 20, 2016