Newton Sr High School Class of 1960


Newton, Kansas
In Memory
Tim Rupp VIEW PROFILE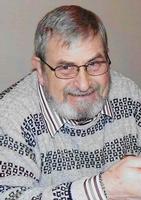 Timothy "Tim" T. Rupp, 76, passed away peacefully at 6:24 am on Thursday, August 30, 2018, at Lima Memorial Hospital.
Tim was born on March 3, 1942, in Wichita, Kansas and was adopted by Weldon and Linda (Balzer) Rupp. On August 7, 1981, he married Frances "Elaine" Briani who survives in Lima.
Tim retired from Roundy's warehouse as a professional truck driver. He owned Rupp & Associates and co-owned the Balloon Emporium for a number of years. He was a U.S. Navy veteran, serving in Vietnam. Tim was extremely proud to have served his country.
He was passionate about OSU football, never wanting to miss a televised game. Tim played the guitar and loved to ride his motorcycle. He was skilled at golf, pool, and fishing. At one time, Tim sang in a barbershop quartet and often serenaded people with his rich tenor voice.
He is survived by his children through marriage Sean McCarthy and Jason (Amber) McCarthy; grandchildren, McKenna, Christian, Matthew, and Reagan. He is also survived by his siblings; Berneil (Ted) Mueller, Mark (Pat) Rupp, and Thelma Carnicello along with numerous nieces and nephews.
Tim's personality was unique. When you looked beyond the sometimes-gruff exterior, you saw a man who loved the Lord, his wife of thirty-seven years, and his family and friends.
Tim was preceded in death by three infant children; Cheri Lynn, William Bryan, and Kristine Louise; two brothers; Glenn and Bob, and his niece, Jacki Scott.
The family will receive friends from noon to 4:00 pm on Saturday, September 8, 2018 at Chamberlain-Huckeriede Funeral Home in Lima, Ohio.
A memorial service will begin at 4:00 pm on Saturday, September 8, 2018, at Chamberlain-Huckeriede Funeral Home in Lima, Ohio. Pastor Megan Croy will officiate. Military rites will be provided by the VFW Post 1275.
In lieu of flowers, donations can be made to the Putnam County HomeCare & Hospice or Trinity United Methodist Church.
Condolences may be expressed at www.chamberlainhuckeriede.com
Click here to see Tim's last Profile entry.