Newton Sr High School Class of 1960


Newton, Kansas
In Memory
Loretta Holmes (Ness)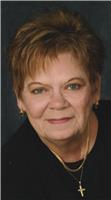 Loretta Sue (Holmes) Ness of Thornton, Colorado, 76, passed away on Sunday (Aug. 12, 2018). She was born Jan. 14, 1942, in Newton to Donnie and Pearl Holmes. She graduated from Newton High School in 1960 and went on to become a cosmetologist later in life. She was married to Larry Ness on June 28, 1975.
She was preceded in death by her parents, Donnie Holmes and Pearl Holmes; and spouse, Larry Ness.

She has three children: Ed Rodgers of Erie, Colorado, Michelle (Nicholson) Arrick (Kevin) of Erie, Colorado, and David Nicholson of Littleton, Colorado; three grandchildren: Eric Rodgers (Jacqui) of Commerce, Colorado, Monique Velasquez (Everett) of Thornton, Colorado, and Nicolette Rodgers of Thornton; and four great-grandchildren: Alexis Rodgers, Kale Rodgers, Elias Velasquez and Alaina Velasquez. She is survived by four sisters: Donna Stricklan of Wichita, RaeAnn, Anderson of Newton, Gerri (Gene) Slack of Newton and Kathryn Beal of Garland, Texas.

Cremation will be done by Cremation Society of Colorado and a Celebration of Life will be held at daughter Michelle's home in Erie, Colorado. Cards of condolence may be sent to 523 CR7 Erie, CO 80516.
Published in The Kansan on Aug. 16, 2018