Newton Sr High School Class of 1960


Newton, Kansas
In Memory
Lana Thalman (Hunter)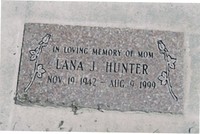 Lana Joyce (Thalman) Hunter, 56, a former Newton resident died Monday August 9, 1999 in Bowling Green, KY.
She was the niece of Margaret Dillman and Inez Onstott, both of Newton. She was born November 19, 1942 in Wichita to the late Wilma "Jeanie" Thalman Harris. Along with her mother, she was preceded in death by her step-father, George Harris, and a daughter, Shannon Hunter.
Lana retired as a civil service payroll clerk for the U.S. Army. She was a beautician and poet. She also was a member of the First Baptist Church in Newton.
Survivors include a son, Kevin Schreiber of Bowling Green, KY; a daughter, Jamie Gordon of Trenton, FL; a brother, Robert Lambert of Oklahoma City, OK; three grandchildren and three step-grandchildren.
A memorial service was held Friday Autust 13, 1999 at the First Baptist Church in Newton with the Rev. Alden Dick officiating. Burial was at the Greenwood Cemetery.